About Us
Driven by a deeply innovative culture, Dakota has long been one of the leading garment manufacturers in Asia. The Hong Kong-based company owes its success to a pioneering spirit of innovation coupled with a forward-looking attitude – seeking to solve potential problems even before they arise. It pursues breakthrough transformations in its business model which make Dakota a game-changer in the industry.
Dakota Industrial was established in 1979 by the Tsang brothers. In those early days, Dakota was just a single garment unit situated in a small industrial building in Hong Kong, with scarcely 20 sewing machines.
With the brothers' strong dedication to craftsmanship, commitment to quality, and a determination to deliver a high level of customer service, Dakota has grown into a leading garment manufacturer.
We now employ over 10,000 people and have 6 offices and 5 production units across Asia. More than 500 million pieces of garment have been produced over the years.
Core Business
Our core business is garment manufacturing, both in the capacity of Original Equipment Manufacturer (OEM) and Original Design Manufacturer (ODM). We produce and supply various categories of garment products to renowned buyers and brands all over the world.
We provide a one-stop solution for sourcing and development, fashion design, merchandising, production (including cut & sew, printing, embroidery), industrial engineering, quality assurance, and logistics for garment products. Our product categories include Ladieswear, Menswear, Childrenswear, Babywear, Sportswear, and Swimwear.
Our Vision,
Our Mission,
Our Strategies
Our Vision
Being one of the world's leading Garment Manufacturers to serve and improve the industry and to remain in the forefront of the garment manufacturing industry in the years ahead is the vision of DAKOTA.
Over the years, with a uniquely advanced manufacturing model, high standards of sustainability, and the ability to offer customised one-stop solutions. DAKOTA has become more solid and advanced a lot to keep abreast with other industry leaders. Not only does our vision serves as the framework for our roadmap, but also guides every aspect of our business.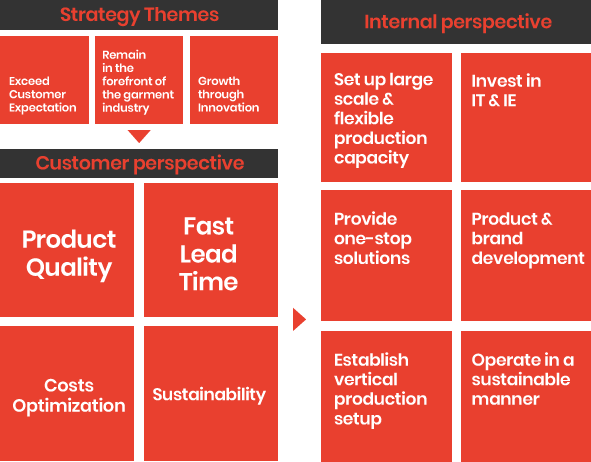 Our Mission
Increases our competitive edge with regards to Product Quality, Lead Time, Costs Optimization, and Sustainability.
Our Strategies
Set up large-scale and flexible production capacity
Set up large-scale and flexible production capacity
Set up several large-scale garment production facilities in various regions, including China, Cambodia, and Myanmar. In addition to our extensive garment production facilities, we have also acquired various types of garment-related accessories units, including threads, elastic fabric units, and printing and label units. All of these provide our customers with a wide-ranging and comprehensive production portfolio, as well as a flexible capacity arrangement.
Invest in IT and IE
Pioneering of IT projects and use of automation technology across operations, as well as the adoption of an Industrial Engineering (IE) methodology.
Pioneer vertical set up in Cambodia
Setting up of a fabric production site in Cambodia to provide integrated services for the knitting, dyeing, and finishing of fabric. This gives Dakota a definite geographical advantage in shortening production lead times.
Provide One-stop solution
Developing in-house experts for Sourcing & Development, Merchandising, and setting up our Fashion Design Studio to broaden service capabilities.
Operating in a Sustainable Manner
Dakota is committed to operate in the most sustainable manner. We have also built close and caring relationships with all of our employees, counterparts, and the community in general.